Airway Fun Center is a One-Stop Shop for Fun Things to Do in Kalamazoo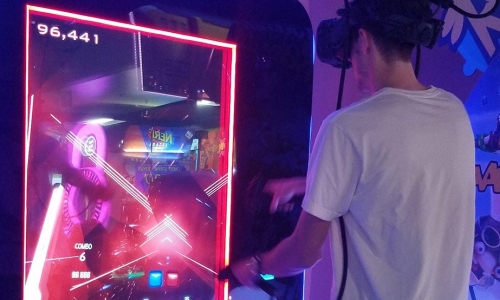 We get it, it's hard to find fun things to do in Kalamazoo that'll please the whole gang. Inevitably, one person wants to play some games, another wants to relax with a cold beer, another wants to get some great food, and yet another wants to do something new and challenging. While this may sound like a dilemma – one that requires splitting your group and venturing off to various destinations – it's actually a very easy problem to solve! Airway Fun Center – Kalamazoo's go-to source for activities and entertainment – offers a huge variety of things to do, ensuring that nobody in your group feels left out!
Great food
For those seeking great food, the Taproom at Airway Fun Center offers a menu of amazing, hand-crafted meals that are certain to please even the most discerning of eaters. Whether you're looking for a delicious burger, mountains of nachos, or a homemade pizza, you can be certain that we've got what you – and your group – are looking for.
Games
From video games to physical activities, we've got a range of games that'll keep your group happy. With a massive arcade and redemption center, younger visitors will love winning – and spending! – tickets on exciting prizes. In addition to the arcade, we also offer miniature golf, escape rooms, virtual reality, and laser tag.
Challenges
If it's a challenge you're looking for, we've got you covered! Whether you want an adrenaline-fueled afternoon piloting go-karts or a more low-key evening painting with friends, you can rest assured that we've got everyone's interests covered.
At Airway Fun Center, we're proud to offer the widest selection of fun things to do in Kalamazoo under one roof. If you're looking to get out of the house and spend time with family and friends, we encourage you to stop by and see what we've got to offer!