Book Your Holiday and New Year's Party Now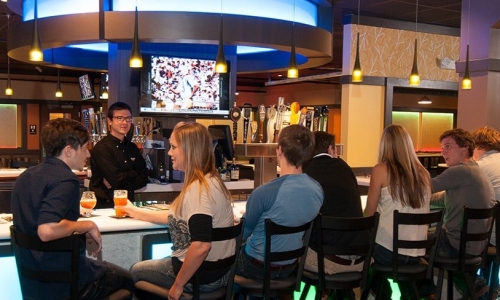 If you are looking for a great venue for a holiday party for friends, family, your employees, or anyone else, now is the time to contact Airway Fun Center to schedule a party that all of your guests will enjoy. Not only do we have a wide selection of fun things to do, but we also have a full kitchen that can provide you with all the food and drink you need to ensure that none of your guests go home hungry. In today's post, we will discuss the many ways in which we can keep your guests entertained for a holiday party they will never forget.
Have Fun with Some Games of Bowling
Airway Fun Center has been the premier Kalamazoo bowling facility for well more than 50 years. We have traditional bowling lanes, our Spark Lanes with unique games like Angry Birds and Battle Bots, and even a VIP Suite where you and your guests can bowl in privacy. Have kids involved with your party? We have bumpers to keep the ball out of the gutters and ramps to help them aim the ball before rolling it towards the pins. This means that no matter your age or skill level, you can enjoy the thrill of getting strikes and spares.
Get a Thrill with Laser Tag
Whether in teams or as individuals, our Laser Tag arena offers a thrilling challenge that give you the excitement of being in the latest sci-fi movie. Our arena can accommodate up to 16 players at one time, adding to the intensity of the Laser Tag game for your guests. We also offer the challenge of our Laser Maze in which you must make it to the opposite end of a room of lasers without breaking any of the beams.
Enjoy Nostalgia in Our Arcade
Imagine being able to enjoy the fun of the old coin-op arcades without having to lug around all those quarters. At Airway Fun Center, you can do just that with one of our Fun Cards. Not only will your fun card allow you to enjoy Ski-Ball, pinball, video games, and other games, but all the tickets you acquire from winning these games will be stored on your card, allowing you to redeem them without awkwardly fumbling around with strips of paper tickets. And the best part is, these cards never expire! You can always add more money onto them, and you can accumulate more tickets on the card to earn greater prizes.
It's time to start planning your holiday party, so contact us and let us know what you have in mind.