Cold Weather Got You Down? Find Fun Things to Do in Kalamazoo!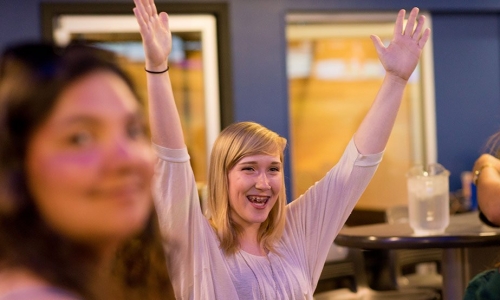 Well, it's that time of year again… the temperatures are dropping, snow is falling, ice is forming, and people are looking for exciting, fun things to do in Kalamazoo. With outdoor activities no longer on the menu, people are looking for a place to stay warm, get some great food, enjoy a fun activity, and spend time with their friends and family. Thankfully, Airway Fun Center has it all covered! With an unparalleled number of games and activities, we are Kalamazoo's go-to destination for exciting, engaging, and memorable times.
If you're looking for a way to start your night off right, there's no better place than our Taproom. Offering a full menu of authentic, hand-crafted items, we've got all of the bases covered: pizzas, burgers, appetizers, and more. Once you've completed your meal, you can stick around to enjoy a drink or – if you're looking to roam – head over to our bar to sit, chat, and socialize with your friends.
After you've gotten your fill of food and drink, you're certain to find an activity that appeals to everyone in your group. Whether you're interested in laser tag, bowling, Painting with a Twist, escape rooms, or our arcade, you'll find a massive range of options beneath our roof.
At Airway Fun Center, we strive to provide the widest, most impressive selection of fun things to do in Kalamazoo. No matter if you're looking for a sporty, active activity or something more laid back that tests your wits, you're sure to find something that works for you. Best of all, with everything collected under one roof, you don't have to split your group up! Everyone can participate, do their own thing, then meet up at our Taproom to discuss their experience! So, if you're looking to warm up on these cold, wintry nights, be sure to schedule your visit today!