Enjoy Our Arcade, Bowling Alley, and Other Fun Things for Kids to do in Kalamazoo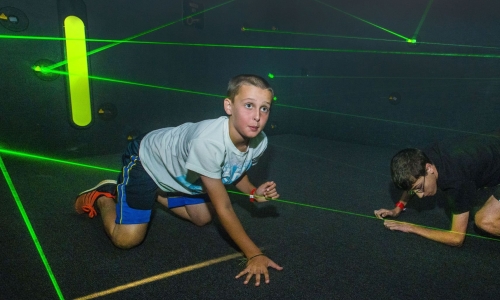 With winter in full swing and the ground covered in snow, you're probably trying to find a way to get the kids out of the house and let them burn off a little energy from being cooped up inside. Airway Fun Center has you covered. While our mini golf course and go kart tracks are currently buried in the snow, you can bring the kids inside to enjoy all the fun activities we have in our facility. From an extensive arcade and bowling to laser tag and laser maze, we have plenty of ways to keep the kids occupied for an afternoon of fun. Read further for more information about the indoor activities your kids can enjoy at Airway Fun Center.
Enjoy the Thrill of Laser Tag or Our Laser Maze
Airway Fun Center has the premier Laser Tag and Laser Maze facility in the Kalamazoo area. Laser Tag gives you the thrill of a Sci-Fi battle, teaming with your friends and family members in a thrilling contest that will also get your kids some exercise without them even realizing it. For a more unique challenge, you can try one of the exciting missions in our Laser Maze where you try to make your way through a laser-illuminated room without breaking any of the beams.
Enjoy Friendly Competition in Our Bowling Alley
Bowling is one of America's favorite family pastimes for kids of all ages. Airway Fun Center has a number of lanes available where you and your friends can challenge each other in a game that even the little kids can participate in. Whether you want to bowl on traditional lanes or try the Spark Lanes with exciting graphics and lights on the lanes, everyone in your party is sure to have a great time. If you are interested in bowling in a league, click here for more information.
Challenge Yourself in Our Exciting Arcade
Airway Fun Center has a great arcade with all sorts of colorful lights and bells and whistles that create an exciting, fun atmosphere. You can try a game of Ski-Ball, shoot some hoops, play some pinball, or try one of our challenging video games. And the best part is that you don't need to lug around a bunch of quarters. You can load money onto one of our Fun Cards, allowing you to play the games you want, and you can always add more money to it if you wish.
Not only will your kids have a great time at Airway Fun Center, but you'll have fun when they head to bed earlier after expending so much energy! It's a win/win, so stop in for a great time today!