Escape Rooms in Kalamazoo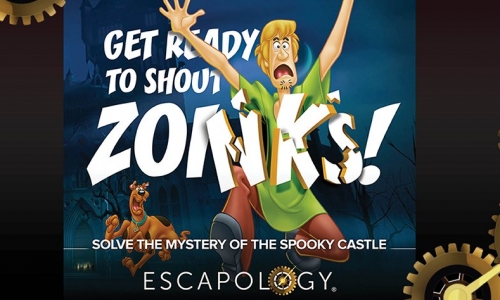 With the winter months upon us, the weather can really hinder the number of activities available to pass the time. If you are looking for a unique, challenging experience for your friends or family, then consider one of the challenging escape rooms at Airway Fun Center. The Escape Rooms offer great adventures consisting of puzzles and riddles that you and your teammates have to solve within the context of a fun, thrilling narrative. Over the last 15 years, these escape room games have increased in popularity throughout the world. Airway Fun Center now has seven different options of varying difficulty to challenge you and your friends in Kalamazoo and Portage. Read further for more information about the Escape Rooms we have available to test your wits.
Scooby Doo and the Spooky Castle Adventure
This escape room, based on everyone's favorite meddlesome kids and their pal Scooby-Doo, is perfect for adults and children. The story has your team will explore and investigate the Spooky Castle to solve the Mystery behind the disappearance of the Baroness Maria Richman.
Antidote
You and your team must work quickly to solve the mystery surrounding a dangerous, potent virus that is now in the hands of a foreign power. You must use the clues available to formulate an antidote to cure the virus and save mankind.
Arizona Shootout
Set in the Arizona west in 1881, this escape room will partner you with legendary lawman, Wyatt Earp, to identify the outlaws responsible for the death of your fellow marshals before the culprits make a successful escape out of the country to Mexico.
7 Deadly Sins
This escape room (which is not suitable for children) has you compiling evidence of an old curse, in which you must find a way to lift the curse that results in the untimely death of a member of the Crickley Church before the strike of midnight when you could be next!
Lost City
For this escape room, you work with your team to complete the quest of famous explorer, Archibald Tucker, in an attempt to retrieve a rare treasure from an abandoned temple in The Lost City
Mansion Murder
This escape room is a classic murder mystery! You will work with your team to discover the culprit who murdered Hugh Montgomerie. This is a more difficult room designed for more experienced escape room veterans over the age of 16.
Under Pressure
This intense escape room puts you on-board a WWII submarine, The Steel Shark, that begins to plunge into the sea. You must work quickly to repair the submarine and get it to the surface before your crew dies.
The Escape Rooms at Airway Fun Center are a great way for you to have fun and test your skills with your friends, family, or co-workers. If you are interested in trying one of our escape rooms, please call Airway Fun Center to reserve the room you want to try on the date you want.