Fun Team Building Activities in Kalamazoo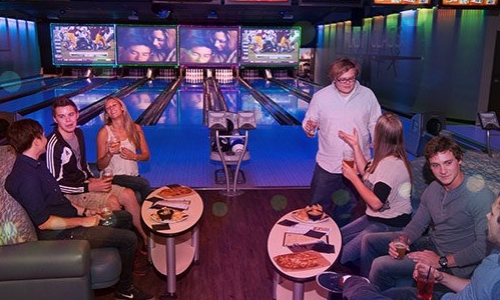 With everything your employees do to keep your business running, there are a number of ways in which you can show your appreciation. One of the most memorable ways in which you and your team can blow off some steam and have fun is with one of the many fun team building activities we have at Airway Fun Center. From activities like bowling where you can compete or one of our escape rooms where everyone works together, we have plenty of fun ideas that everyone will enjoy. We also have our Taproom where you can get beverages and food to satisfy your hunger. For more information about some of our popular team building activities, please read further.
Enjoy the Challenge of One of Our Escape Rooms
We have an Escapology building on our property that features seven different Escape Rooms with varying degrees of difficulty to test your teamwork and problem-solving skills. With various storylines available, including one that features Scooby Doo and the gang, you can find the perfect challenge for your team. Be sure to call ahead and make sure the room you want to try escaping is available, so you and your team can enjoy a thrilling experience together.
Compete in America's Top Participation Sport
Bowling is one of the most popular sports in America in which people of all ages can participate. Airway Fun Center has a number of bowling lanes available where you and your team can compete and build camaraderie over a few games of bowling. The bowling alleys are located right new our Taproom and food counter, so your team can have delicious food and beverages while you play America's favorite participation sport. You can even take your bowling outing to the next level with colorful spark lanes, or get some privacy by reserving  our VIP Suite. Your team is sure to have a great time, so contact us to book your bowling party today.
Play a Round of Mini Golf
Now that winter is finally over, the weather has improved, and our challenging mini golf course is ready for another season of fun. A great challenge for all ages, our mini golf course is a great way for all of your workers to compete and have fun together. If you get thirsty or hungry during your round of golf, our food truck is right there with a great selection of snacks and beverages.
Organize a great team building event for your workers by calling Airway Fun Center today!