Fun Things to Do and Summer Birthday Parties in Kalamazoo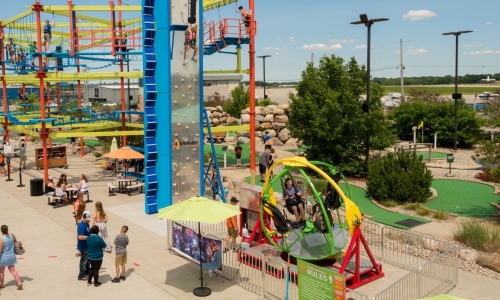 With school out for the summer, it will only be a matter of time before your kids start telling you how bored they are with nothing to do in the house. Airway Fun Center has a great selection of fun things to do in Kalamazoo for an action-packed summer for kids of all ages. We have outdoor activities like mini golf and our ropes course to indoor activities like bowling and arcade games, your kids will have a great time and burn off some excess energy (hopefully, resulting in an early bedtime). Whether you want to stop by for an afternoon of fun, or you want the perfect venue for your child's birthday party, everyone is sure to enjoy their day at Airway Fun Center. In today's post, we will talk about some of our most popular summer attractions.
Fun Things to do in Kalamazoo
Climbing Wall – for more adventurous children, we have a unique three-sided climbing wall that will provide kids with a thrilling challenge with the security of a safety harness. With Zipper, Vertical Waves, and the Jump Off options, your kids can try any of these thrilling walls for a fun climbing challenge.
Ropes Course – a fun challenge that provides an aerial view of the surrounding area, our ropes course features numerous levels with different obstacles, including a 100 foot zip line. Climbers at least 4 ft tall (42 inches with an adult) get 30 minutes to complete this fun ropes course.
Go Karts – For drivers who are 54 inches or taller and riders at least 37 inches tall, our Go Kart track gives a great thrill of racing in a safe environment. Drivers must be at least 16 years old for either the single or double karts on our track. Call ahead for availability if weather is a factor.
Mini Golf – probably the most popular of all outdoor participation sports, miniature golf is perfect for players of all ages. This offers a fun activity for your kids to compete against each other and see whose putting skills are the best.
Have a Great Kids Birthday Party in Kalamazoo
We at Airway Fun Center love a good party, and we would love to help host your child's next birthday party. We have packages available that will allow you guests to enjoy different activities like bowling, mini golf, and more, and we can even provide you with pizza, soda, and other tasty food to ensure nobody goes hungry during the day's adventures. Contact us and start planning a great kids birthday party in Kalamazoo today!