Fun Things to Do for Group Activities in Kalamazoo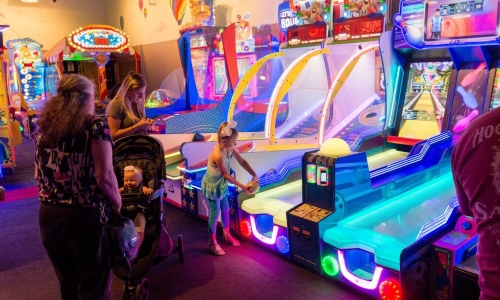 With the school year underway, you might be looking for some fun things for the family to do on the weekends. If you are looking to keep your family occupied or planning an event for your kids' groups – like athletic teams, church groups, or Girl Scout troops – Airway Fun Center has a wide selection of activities for kids of all ages. With video games, go-karts, mini-golf, and so much more, we have something for everyone. We also have a great menu of delicious food and drinks, so you and your group can make a full day of it. Let's take a look at some of the great activities you can enjoy at Airway Fun Center.
Win Prizes in Our Arcade!
We have an extensive arcade with numerous games from video games to competitive games like Ski-Ball and Basketball where you can win tickets redeemable for all sorts of fun prizes.
Compete with Your Friends!
If you have a competitive spirit, you and your friends can test each other's skills with a game of bowling or a round of miniature golf. Licensed guests 16 and older can also get their speed fix by driving some laps on our Go-Kart track.
Catch the Big Game!
Fall is big for sports, with the baseball playoffs ramping up and college and pro football seasons just getting started. You and your friends can enjoy the big game on one of our big screen TVs while enjoying some ice cold adult beverages, delicious appetizers like wings and nachos, or great game day classics like pizzas or burgers.
Test Your Team-Building Skills!
Test your skills with one of our escape rooms with different themes and difficulty ratings. For an extra charge, we even have an escape room based on Scooby Doo and the gang. Please call ahead for more information and to book your escape room today!
Get Active With Some Fun Exercise!
If you are looking for something a little more active, try out our climbing wall or ropes course. You can also challenge your friends to some Balladium or Laser Tag for a more competitive activity.
The friendly staff at Airway Fun Center take great pride in making sure that all of our guests have a great time while they are here. Whether you are looking for a fun night with the family or a special outing with your children's groups, we have the activities and food to make sure that the day will be a memorable one. For more information about how you can plan a great day of fun, call us today.