Fun Things to do in Kalamazoo After School Lets Out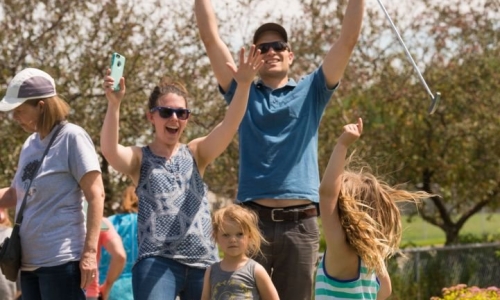 Good news! Summer and the beautiful weather that comes with it are almost here! The bad news? School's almost over, and you have to find ways to keep the kids entertained. While you could certainly fire up their Kindles or video game systems, you don't want them staring at screens all summer. Why not bring them down to Airway Fun Center in Portage and have them burn off some energy? Airway Fun Center has a great selection of outdoor activities that will get your kids moving and (hopefully) wear them out for an early bedtime. Whether you want to have a great birthday party with your kids and all their friends or just want to stop by for a day of fun, we are sure your kids will have a great time with us. Read further for more information about all the fun things to do at Airway Fun Center.
Enjoy a Fun Round of Mini Golf
Miniature Golf is a great game that allows the whole family to participate while enjoying some fresh air and sunshine. Perfect for players of all ages and skill levels, our mini golf course provides a fun challenge that everyone can enjoy. And the best part is – kids aged 4 and under can play for free!
Get a Thrill on our Ropes Course
Most kids are natural climbers. Whether it's the furniture in your home or the trees in your yard, there's something about the thrill of climbing that speaks to children. Unfortunately, climbing can be a dangerous hobby, as most of us know from our personal experience as kids. Airway Fun Center can give your kids the thrill of climbing without the risk of falling. Our ropes course will have your child safely harnessed as they climb through multiple levels and obstacles, ending with a thrilling 100 foot zip line. Please read our guidelines before attempting the Ropes Course and call ahead in case of inclement weather.
Test Your Skills on our Climbing Wall
For a more intense climbing thrill, you can try climbing one our climbing walls. We have three options available – The Zipper, Vertical Waves, and The Jump Off – making our climbing wall adventure one of the most unique in the area. Of course, your child will be safely harnessed to avoid accidents, so they get the thrill of climbing without the risk of injury.
Fulfill Your Need for Speed in Our Go-Karts
It's almost impossible to drive or ride in a Go-Kart without a big smile on your face. For kids, it's a way to enjoy a thrill of racing that video games simply can't replicate, and for adults, it's a great bit of nostalgia taking us back to our childhood. Airway Fun Center has a great Go-Kart track with single-person karts for drivers 54 inches or taller, and double karts where kids at least 37 inches tall can ride along with a driver at least 16 years of age. As with our other outdoor activities, the Go-Kart track is dependent on the weather, so please call ahead for availability if the weather is suspect.
In addition to our outdoor attractions, you can enjoy some great food and drinks from our Taproom or Food Truck, and there is also our arcade, bowling lanes, laser tag, and more to enjoy indoors while you visit us. With any luck, your kids will be so worn out they will fall asleep in the car on the way home, so stop in for a great day of fun at Airway Fun Center today!