Fun Things to Do in Kalamazoo for Kids in the Springtime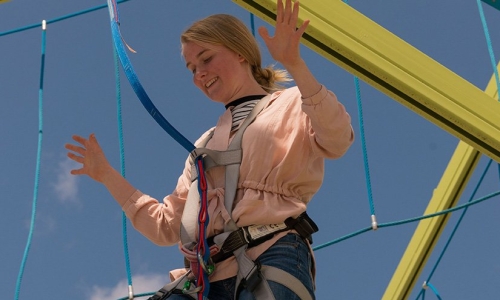 Airway Fun Center is the perfect spot for fun things to do in Kalamazoo. Whether you have a child's birthday party coming up or just want to get the kids out of the house to burn some energy for the afternoon, we have a long list of fun activities that your kids will enjoy. With outdoor activities like Mini-Golf and Go-Karts and indoor activities like Bowling and Arcade games, you are sure to find plenty to keep the kids occupied and wear them out for an early bedtime. In this post, you can read further for more information about the activities your kids can enjoy at Airway Fun Center.
Mini-Golf
One of the most popular family-friendly activities, Mini-Golf is an activity that the whole family can enjoy. We have a great mini-golf course that will challenge players of all skill levels.
Ropes Course
We have a great ropes course that can give your kids the thrill of climbing in a safe and colorful environment. This course has multiple levels, featuring a 100 foot zip line that is great for an exciting thrill.
Climbing Wall
Challenge yourself with multiple climbing wall options that give you the excitement of climbing while being safely secured in a harness. Try the Zipper, Vertical Waves, and the Jump Off for a climbing challenge.
Go Karts
For drivers at least 54 inches or taller, you can get a racing thrill by driving a few laps around our Go Kart course. We even have Double Karts that allow shorter guests to enjoy a ride with a driver of at least 16 years old.
Bowling
Bowling is another great activity that the entire family can enjoy. Airway Fun Center has traditional lanes and exciting spark lanes available, including implements that will help younger bowlers from consistently rolling into the gutter. Ask us about our bowling leagues.
Arcade
Inside our brightly lit arcade, you will find all sorts of fun, exciting games to play. From traditional pinball and ski-ball machines to some of the latest video games, there are plenty of options for players to have fun. The best part is that you can use a fun card to activate the games without the hassle of lugging quarters around.
Airway Fun Center is dedicated to hosting people throughout the greater Kalamazoo area for a great time they will never forget. Stop in and join the fun today!