Fun Things to Do Indoors for Wintertime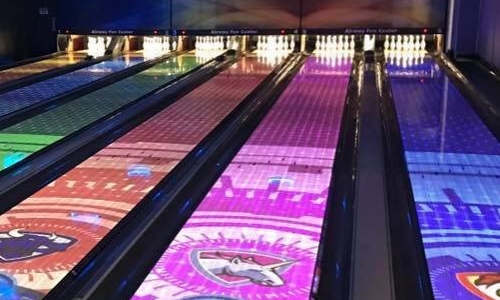 The snow is finally flying, covering the region in a blanket of white that limits the number of activities to keep the kids occupied. You can bundle up and head out into the snow if you want to, or you can come to Airway Fun Center, where we have several fun things to do right in the heated comfort of our facility. Whether you are just bringing the kids in to burn off some energy or you want a great location where you can bring your workers for a corporate party, we have everything you need to hold an event that everyone will enjoy. From arcade games and physical activities to just lounging at the bar with some food and drinks while the big game is on the TV, you can have a great time without worrying about frozen fingers and runny noses from being outside in the cold. Read further for more information about some of the fun activities we have at Airway Fun Center.
Bowling – Fun for All Ages
We have a large bowling area with more lanes available than anywhere in the greater Kalamazoo area. Whether you are looking to bowl some traditional games or experience the fun of our alternate reality lanes, you and your friends and family are sure to have a great time playing one of America's most popular recreational activities.
Play Games and Win Prizes in the Arcade
We have a great arcade that both kids and adults will enjoy. From some of the best in modern video games to traditional tests of skill like Ski-Ball and Basketball, we have a great selection of games to challenge your skills. You can reload money onto a card, so you won't have to worry about lugging around a bunch of quarters, and you can even earn great prizes for playing!
Get a Bite to Eat While You are Here
You are sure to work up an appetite when you visit Airway Fun Center, and we have you covered. Our Taproom has a great menu with pizzas, sandwiches, nachos, and more to ensure you don't go hungry during your visit. We also have soft drinks and alcoholic beverages available to quench your thirst.
We at Airway Fun Center are committed to making sure every person who visits our facility has a great time. We also have laser tag and escape rooms available for more intense winter experiences, so whether you are coming with family, friends, or co-workers, we are certain that everyone in your party will have a fantastic experience. If you have any questions about larger groups or parties, feel free to give us a call.