Get a Rush on our Go-Kart Track in Kalamazoo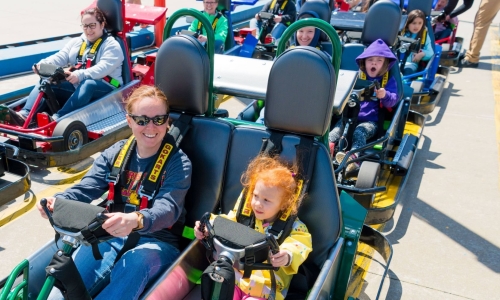 Airway Fun Center is a great place to bring your kids for fun things to do in Kalamazoo. We have a great selection of activities, both indoor and outdoor, to ensure that the entire family has a great day of fun. One of the most thrilling activities that our guests enjoy now that the weather is warmer is our super fun Go-Kart track. We have both single karts for drivers at least 54 inches tall and 16 years or older and double karts that allow children at least 37 inches tall to ride with a driver who is at least 16 years old. Perfect for birthday parties, office team-building, or just for an afternoon thrill, our Go-Kart track is sure to leave a smile on your face after every thrilling lap. Read further for more information about the excitement you and your family can enjoy of Airway Fun Center's Go-Karts in Kalamazoo.
Race Your Co-Workers for Bragging Rights
You and your co-workers need a break from the mundane, daily office routine…especially when the sky is clear and the sun is shining. What better way to relieve stress and have fun with your co-workers than to drive a few laps around our Go-Kart track? A day at Airway Fun Center is a great way to show your employees appreciation for their hard work while also letting them have a great time together. They can also try bowling a few games, working together to solve one of our challenging escape rooms, compete in a game of laser tag, and more. Be sure to stop by our taproom, where everyone can recount the day's adventure over a cold beer and some delicious food like burgers and pizza. Have a team-building event the office will be talking about for weeks and call Airway Fun Center to schedule your event today!
We Have Fun Things to Do for Everyone
Racing around our Go-Kart track is just one of the many ways in which you can enjoy a day at Airway Fun Center. We have a great selection of activities for kids of all ages. From more laid back activities like bowling or mini golf to more challenging activities like laser tag or one of our escape rooms, our facility has something for everyone. We also have plenty of delicious food and drinks to keep you sated when your hunger or thirst hits. Whether you are planning a special party or just want the kids to burn off some energy for the afternoon, Airway Fun Center is the perfect spot for you and your family. Outdoor activities are limited depending on the weather, so be sure to call for availability. We cannot wait to see you!