Happy Hour, Burgers and Other Fun Things to Do in Kalamazoo at Airway's Taproom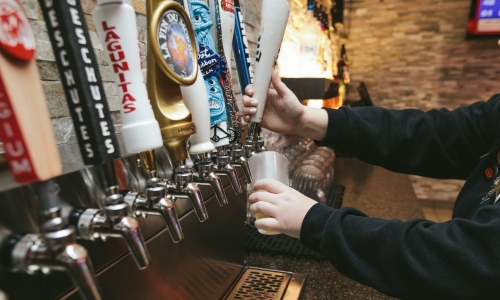 The Taproom at Airway Fun Center is the premier destination for people – over the age of 21 – looking for fun things to do in Kalamazoo. With a massive beer list containing Michigan's finest brews, including Bell's Oberon, Gonzo's Biggdogg Vanilla Porter and Latitude 42's I.P.Eh, that are guaranteed to to suit the tastes of even the most discerning beer connoisseur. In this post, we're going to look a few of the ways that we deliver good times, good friends and good drinks at Airway Fun Center's Taproom.
Massive beer selection
Incorporating the latest offerings from tons of local brewers, including Bell's, Arcadia Ales, Frankenmuth, Latitude 42 and Paw Paw Brewing Company, the Taproom is Kalamazoo's go-to source for the best local beers.
Lane-side service
We talked about good beers… but what about good times? The Taproom offers lane-side service, allowing you to enjoy a spirited, competitive round of bowling, all while being served your favorite drinks, food and appetizers.
Great food
But, what about that food? We've got pizzas, French fries, and salads. We've got onion rings, nachos and burgers. We've even got ice cream, milk shakes and cookies! Our homemade, handcrafted foods are all lovingly prepared by the area's best cooks.
At Airway Fun Center, we strive to provide a wide range of exciting, fun things to do in Kalamazoo. Whether you're interested in bowling, laser tag, escapology or our massive arcade, we're confident that you'll find exactly the after-work, weekend or holiday activity that you've been looking for. So, if you've been searching for the perfect hangout, one that includes both awesome drinks and awesome activities, we encourage you to stop on by and give our Taproom a visit!