Hold Your Holiday Party Here With Us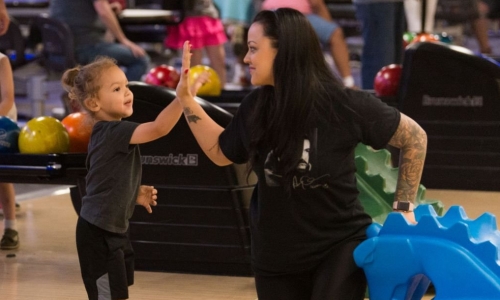 Summer is gone and the weather is getting colder. This means that indoor activities are starting to take precedent over outdoor activities. If you are looking to plan a party during the fall and winter months, bring everyone to Airway Fun Center in Portage, Michigan. Not only do we have a great selection of activities for people of all ages, but we also have a great selection of food and drinks to ensure that nobody goes home hungry. No matter if you are planning a birthday party, sports team party, corporate event, or holiday party, we have plenty of room for everyone to have a good time that they will be talking about for months. Read further for more details about the options we have available for your party at Airway Fun Center.
Bowl a Few Games
At Airway Fun Center, we have a number of bowling lanes – including Spark Lanes and an 8 lane VIP Bowling Suite – available for you and your friends to roll a few games of bowling. We have all of the necessary equipment so that bowlers of all ages can join in on the fun. We do ask that you call ahead for availability with the Spark Lanes or VIP Bowling Suite.
Try Your Luck in Our Arcade
We have a large arcade with everything from video games and ski ball to basketball, claw machines, and more. You can get a fun card that will allow you to play the games, and you can even get the cards reloaded to keep the fun going. You can even earn great prizes from our redemption center.
Compete in a Game of Laser Tag
If you are looking for a little more thrill and excitement, then a game of Laser Tag with your friends or family might be the perfect option for you. Whether you want to play our Team game, a Free For All, or even a Gladiators game, our Laser Tag arena can accommodate up to 18 players at one time for a fun experience that is perfect for friends, families, or even a team building activity for your workforce! Call us to schedule your Laser Tag competition today.
Work Your Way Out of an Escape Room
Another great team building activity for friends, families, or coworkers, our Escape Rooms will give you a fun challenge. We have a number of options with varying difficulty, including a Scooby-Doo room that is perfect for the kids. Call ahead to reserve the Escape Room you want to attempt.
With all of these fun activities, along with the delicious food and drinks, Airway Fun Center has everything you need to have a great party that your friends, family members, or coworkers will never forget. If you are interested in having a party at our facility, feel free to contact us to get everything organized.