Kids Feeling Cooped Up? Find Fun Things to Do in Kalamazoo at Airway Fun Center!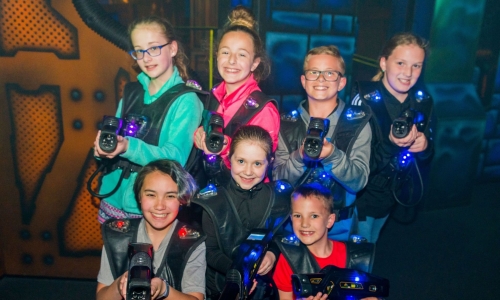 With spring rolling in and cold weather rolling out, kids – and families – across the city are looking for fun things to do in Kalamazoo. Whether your group favors indoor games or outdoor adventures, you can be confident that Airway Fun Center has you covered! With a wide range of activities on offer, including bowling, escape rooms, go-karts, and mini golf, there's enough fun within – and outside – our walls to keep your entire family entertained for the afternoon. In today's post, we're going to look at a handful of the options that we have available.
Bowling
Naturally, we'll start with a classic… bowling! With 39 newly renovated lanes, Airway Fun Center is the destination for bowlers of all skill levels. For the kids, we offer automatic bumpers and for the adults, an unmatched selection of beverages.
Mini golf
Let's move from an indoor classic to an outdoor classic: miniature golf. A great way to enjoy great weather, our miniature golf course is the best option for family's looking to stir up their members' competitive spirit.
Arcade
Are your kids more interested in controllers than pins or clubs? Airway Fun Center offers the area's largest arcade. With tons of games to play and a fully stocked prize center, you can be certain that your little ones will have a memorable evening.
At Airway Fun Center, our goal is to provide the largest, most exciting assortment of fun things to do in Kalamazoo. No matter what your family prefers, we've got something that'll keep them entertained. If you've been searching for a place that doesn't just offer one activity, we encourage you to browse our website, take a look at what we have to offer, and start planning your visit today!