Looking for Fun Things to Do in Kalamazoo? Try Airway's New Spinning Coaster!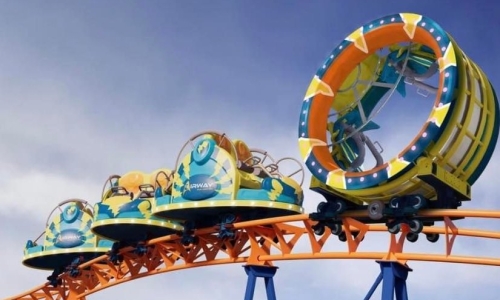 At Airway Fun Center, we are always looking for new, exciting ways for our guests to have fun, and we have outdone ourselves this time! We are proud to announce our newest attraction, The Spinning Coaster! Offering a great thrill, this ride is sure to excite children of all ages at our Portage location. Whether you are looking for a great ride for guests at a child's birthday party, or you are just looking for fun things to do with your spare time, we are sure you will have a great time with our latest addition. In today's post, you can find more information about The Spinning Coaster before you stop on out and try it for yourself!
Who Can Ride This Coaster?
We at Airway Fun Center are dedicated to protecting the safety of every guest who visits, which is why we need to adhere to strict height restrictions for guests who want to ride the new Spinning Coaster. There are two types of cars on the coaster – three spinning cars and the one hamster wheel. The spinning cars spin around horizontally and require all riders to be a minimum of 36 inches tall. It's important to note that riders between 36 and 47 inches tall must be accompanied by an adult. Riders 48 inches or taller may ride alone. There is a maximum weight of 660 pounds for the spinning cars. The hamster wheel spins vertically, with riders going upside down! For the hamster wheel, riders must be a minimum of 55 inches tall, and must be no taller than 77 inches, with a max total weight of 330 pounds. Please be sure to read the rules posted at the entry gate before riding to ensure your safety and the safety of the other guests.
How Much Does the Spinning Coaster Cost?
If you are interested in trying the coaster, a single ride costs $8 per person. You can also select the Spinning Coaster as one of your choices for our Pick 3 or Pick 5 promotions. Stop by on Half Off Tuesday, and you can get two Spinning Coaster rides for the price of one!
How Long Does the Spinning Coaster Last?
Each Spinning Coaster ride lasts for 4 laps. It is available to ride (weather pending) during normal business hours, and you get the added thrill of the dazzling light display during evening hours!
Whether you want to spend an entire day with us playing mini-golf, riding go-karts, and having a great time, or you just want to try our new Spinning Coaster, we cannot wait to have you visit. The new Spinning Coaster would also be the perfect activity for your kid's birthday party. Contact us to schedule your party today!