Looking For Things to Do In Kalamazoo with the Family? Visit Airway Fun Center!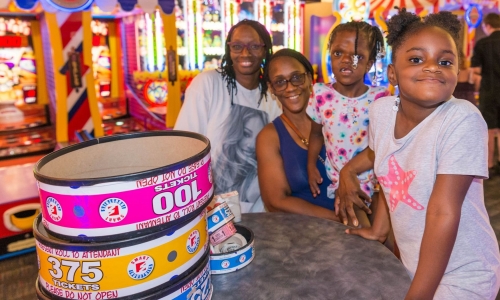 Every weekend, families of all sizes start looking for fun things to do in Kalamazoo. And, the bigger the family, the harder it is to find something that everyone will enjoy. Whether you've got picky eaters, video game enthusiasts, thrill seekers or imaginative, would-be ninjas, Airway Fun Center is proud to offer a range of activities that are certain to appeal to every member of your family. From the competitive older brother to the sports-loving dad, there's never a lack of things to do with your family here. In this post, we're going to show you just a fraction of the activities that your family can partake in this weekend at Airway Fun Center.
Win some prizes!
With our massive arcade and ticket redemption center, you and your little ones can work together to amass tickets and take home some awesome prizes.
Watch the game!
Got a big game coming up that you'd love to watch on a big screen? Our Taproom has the biggest screens in the area and, more importantly, a relaxed atmosphere complete with kids' – and adult – beverages!
Enjoy some lighthearted competition!
Nothing brings the family together like friendly competition. With 39 newly-renovated bowling lanes, you and the kids can finally determine who the top dog is!
Sit down for a meal!
Most families have at least one picky eater… thankfully, Airway Fun Center caters to all appetites. From pizza and nachos to salads and sandwiches, we've got every member of your family covered.
Get active!
Staying active is an important for growing kids. From Balladium to laser tag, we've got activities that can keep your kids active, healthy and engaged.
At Airway Fun Center, we pride ourselves on offering an unmatched number of fun things to do in Kalamazoo. Whether you're looking to organize a night out with the family, a quick afternoon jaunt or an all-day affair, our activities are certain to keep every member of your family happy an entertained. If you'd like to learn more about what we have to offer, stop by or give us a call today!