Plan Your Next Birthday Party in Kalamazoo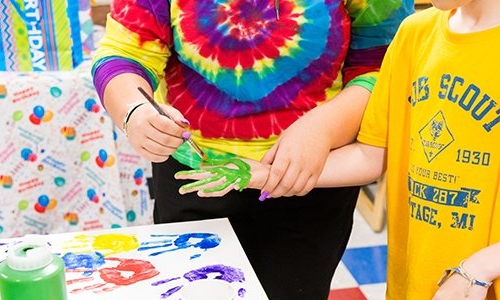 Airway Fun Center is the perfect location for your child's next birthday party in Kalamazoo. If you have a child with a birthday in the winter or early spring, the weather really limits your options when it comes to scheduling a party. This is never a problem when you schedule your birthday party at Airway Fun Center. With a full bowling alley, a laser tag arena, a big arcade, and other activities in our facility, Airway Fun Center has plenty of fun things to do for a birthday party your children and their guests will never forget. In today's post, we will discuss the fun indoor activities your guests can enjoy for your child's next birthday party.
Everyone Can Enjoy a Game of Bowling
For more than 50 years, Airway Fun Center has been Kalamazoo's premium bowling center. We have more than 20 bowling lanes in our fun center, including VIP Lanes where you and your group can bowl in privacy. We have bumpers and ramps, so the little ones can participate in the fun without getting discouraged by the ball going into the gutter. Our bowling lanes are adjacent to our Taproom, so you can conveniently order pizza, chicken strips, and other snacks and drinks while you bowl. Try our Spark Lanes which include exciting graphics and lights for a unique experience that other bowling alleys cannot match. Request a Lane Reservation by clicking this link.
Get a Thrill with Laser Tag or Laser Maze
Airway Fun Center has a great Laser Tag center where your children and their friends can get a sci-fi style thrill in both Team and Free For All games. Our laser tag arena is the largest in the Kalamazoo area, so up to 16 guests can compete in one game. If you want the excitement of lasers without the laser guns, we also have a Laser Maze that offers the challenge of making it from one end of a laser-illuminated room to the other without breaking any of the beams.
Get Caught Up in the Lights of Our Arcade
The bells, whistles, lights, and sirens in the arcade are always an attraction to children. Whether they want to play a traditional game of pinball, an exciting video game with superior graphics, or a test of skill like Ski-Ball or Hoops, the kids are certain to have a blast in Airway Fun Center's Arcade. The best part is that they don't have to worry about lugging around a bunch of quarters. Just load money onto one of our Airway Fun Cards, and the kids can swipe it to play any of the games or activities in the arcade. They can even earn fun prizes depending on how well they play!
Give Your Child a Memorable Birthday Party with Fun Things to Do
Airway Fun Center can help you plan a terrific birthday party with plenty of fun things to do for children of all ages. Be sure to get the date you want by filling out our Birthday Party Reservation form as soon as possible. Someone will be in touch with you to confirm all of the details.