Planning a Kids Birthday Party? There Are Tons of Things to Do in Kalamazoo at Airway Fun Center!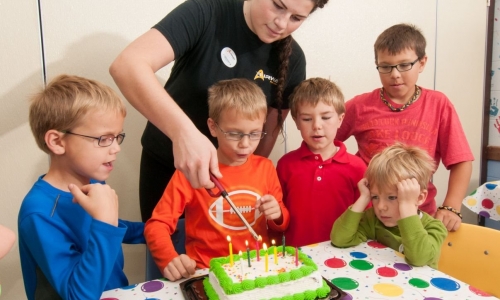 Planning the perfect kids birthday party can be a time consuming and difficult process. Thankfully, with Airway Fun Center in town, there's never a lack of things to do in Kalamazoo. From our massive laser tag arena to our thrilling bumper cars, your kids will have a blast! More importantly, we take care of everything so you'll save yourself the headache of having to arrange both food and entertainment for your kids birthday party. In this post, we're going to look at a few of the attractions available at Airway Fun Center that we know your kids will love.
Bowling
Of course, we start off with a much-loved classic. Our facility offers 39 newly renovated bowling lanes, including automatic bumpers for our younger guests. No matter how old your child is, any kids birthday party with bowling is
Go-karts
If you want to add a little excitement to your party, take a few laps around our go-kart track! Go-karts are a great idea when you're planning a teen birthday party, as drivers must be 16 years of age.
Laser maze
One of the most unique and fun things to do in Kalamazoo, our laser maze is a high-tech adventure game that challenges you to navigate to the end of a laser-illuminated room without breaking any of the laser beams.
Arcade
A timeless classic, our arcade features countless games and activities, as well as a fully-stocked redemption room. Your kids will love the endless variety and daunting challenges offered by our massive arcade.
Pizza
Sure, it's not an attraction but… all kids love pizza! With a range of tasty toppings available, all of our pizzas are made from scratch and sure to please even the pickiest of eaters.
At Airway Fun Center, we aim to provide locals with a range of exciting things to do in Kalamazoo. Whether you're planning a kids birthday party, a holiday get-together or a corporate event, we've got all of the entertainment and dining requirements covered! Contact us to learn more about our group packages and start planning a successful party today!