Room Escape Games, the Latest in a Long Line of Things to Do In Kalamazoo at Airway Fun Center!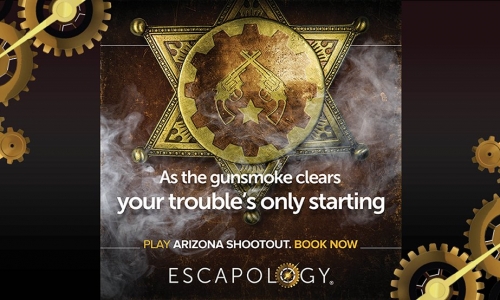 If you've been looking for a riveting, extraordinarily unique challenge, you'll undoubtedly be excited to hear about the new room escape games at Airway Fun Center. Escape rooms are physical adventure games, designed to present puzzles and riddles to players within the context of an engaging narrative. Dating back to 2006, these games have experienced a recent boom in popularity, spreading across the globe to four continents and countless countries. Now, Airway Fun Center is proud to boast four room escape games – each offering a different theme – for the residents of Kalamazoo and Portage to test their wits against.
Scooby Doo and the Spooky Castle Adventure
A great room for kids and adults alike, our licensed Scooby Doo and the Spooky Castle Adventure room is an excellent way to get the family together. Locate a secret dungeon, a monster lab, and all manner of spooky delights in this unique escape room!
Antidote
When a virulent outbreak threatens life on earth, a crack team of chemical weapons specialists must leverage their intellect and training to develop an antidote and – more importantly – prevent a global catastrophe.
Arizona Shootout
If you're looking for a loosely historical room to sink your teeth into, Arizona Shootout is a great option! Stuck in Tombstone, Arizona alongside the legendary Wyatt Earp, you're tasked with identifying and locating a dangerous band of outlaws that are angling to escape to Mexico!
At Airway Fun Center, we aim to provide our guests with an unparalleled number of fun things to do in Kalamazoo. The upcoming addition of room escape games ensures that everyone – even the most jaded of thrill seekers – will be entertained when they visit us. If you've been looking for a unique, one-of-a-kind adventure in the Kalamazoo area, stop by and learn more about our new attractions!