Start Planning Your Summer Birthday Party in Kalamazoo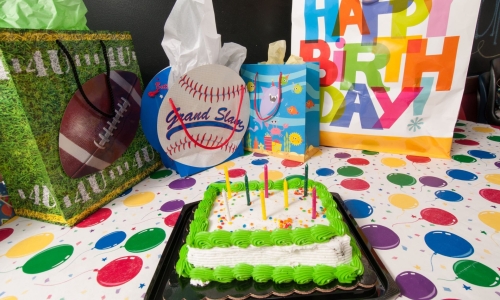 With the cold, winter weather almost gone, it won't be too long before our outdoor activities will be back up and running. It also means that we'll be ready for summertime birthday parties where kids of all ages can have a great time while enjoying the sunshine. Go-karts, climbing wall, ropes course, mini golf…all of these and more are available for your group to enjoy while you celebrate your child's big day at Airway Fun Center. Not only do we have great outdoor activities, but we also have our arcade and bowling alley for more fun things to do, and we have great food and drinks to ensure that nobody goes hungry. Please read further for more information about the outdoor activities your kids can enjoy for an unforgettable birthday party.
Climbing Wall – we have a unique three-sided climbing wall offering a differing range of challenge. Your kids can try the Zipper, Vertical Waves, or the Jump Off to get the thrill of wall climbing while safely secured inside a harness to avoid any unfortunate accidents.
Ropes Course – with a number of levels and an exciting 100 foot zip line, our ropes course is a fun activity that gives you an aerial view of the guests below. Climbers must be at least 48 inches tall (42 inches to climb with an adult) and get 30 minutes in which to complete the course.
Go-Karts – we have a great go-kart track that allows you to get the thrill of racing with your friends. Drivers must be at least 54 inches tall, or we have double karts where kids 37 inches and up can ride with a driver aged 16 or older.
Mini Golf – a great activity for kids of all ages, we have a fun, challenging mini golf course where you and your friends can compete to see who has the best putting skills. Can you get a hole in one? Try our mini golf course and see for yourself!
Have a Birthday Party with Fun Things to Do in Kalamazoo
While the snow hasn't melted completely yet, it's never too early to schedule your birthday party to ensure you get the date you want. Our friendly staff will help you plan out all the details for a birthday party your guests will be talking about for months. We can also help with corporate parties, holiday parties, field trips, fundraisers, and so much more. Call Airway Fun Center to schedule your next event today!