Summer's Almost Here, Start Planning Some Fun Things to Do in Kalamazoo!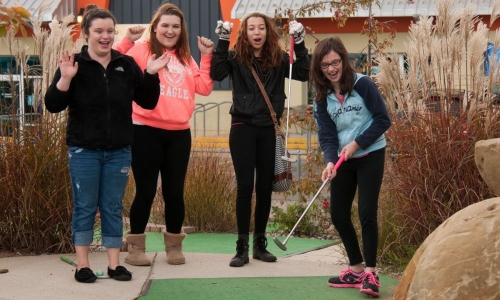 With winter finally rolling out, it's time for warm temperatures to return to our fair state and, with that, it's also time to start planning some fun things to do in Kalamazoo over the summer! Whether you're an intrepid sleuth wanting to enjoy our selection of escape rooms or you're an avid outdoorsman looking to take on the challenges offered by our ropes course, you can be certain that we've got a slew of activities for you and – more importantly – the whole family! In today's post, we're going to help you with your summer planes by looking a little closer at a few of the activities that we offer.
Ropes course
Like climbing? Enjoy being outside? Got a love of heights and adventure? If you answered yes to any of these questions, we're certain you'll love our ropes course. With two levels of fun and a dramatic 100 foot zip line, our ropes course is a great way to work your muscles and get your adrenaline pumping!
Miniature golf
When it comes to fun things to do in Kalamazoo, miniature golf is a time-tested classic. Allowing you to get out of the house and onto the green – the miniature green, that is – mini golf has been a classic, family-friendly activity for decades.
Laser tag
More inclined to indoors activities? Well, beyond our awesome arcade, we also offer the area's most innovative laser tag arena. With the ability to accommodate up to eighteen guests at one time, we offer a wide range of play options, including team and free for all.
At Airway Fun Center, we aim to please. Offering activities that are certain to keep friends, families, and groups entertained, you won't find a better place in Kalamazoo for fun, summer activities!