Things to Do for Summer Fun in Kalamazoo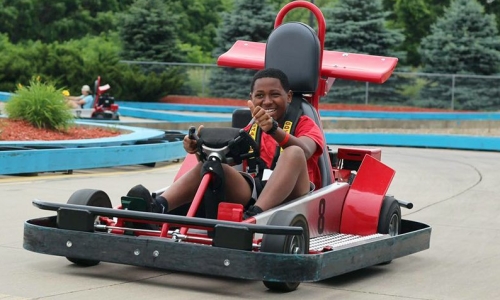 Now that winter is over and summer is just around the corner, it's time to swing by Airway Fun Center for many fun things to do in Kalamazoo. With the warmer weather, our outdoor attractions are open and ready for another exciting summer. Whether you are looking for a great venue for your kid's birthday party, or you just want to get out of the house for a day of fun, there are plenty of fun options at our facility on Portage Road in Portage. In today's post, we will look at some of the more popular summer activities you and your kids can enjoy at Airway Fun Center.
Enjoy a Race on Our Go-Kart Track
The Go-Kart track at Airway Fun Center is always a thrill for drivers who are at least 16 years old and 54 inches or taller. You will feel the breeze in your face as you race through the twists and turns of our track against your friends. For children who are under the driving age, we have double-karts that allow kids at least 36 inches tall to ride with a driver, allowing the younger kids the opportunity to enjoy the thrill of the race, as well. The Go-Kart Track is subject to weather, so please call ahead to ensure the track is available.
Challenge Your Friends and Family to a Round of Mini Golf
One of the most popular family outdoor activities is miniature golf, and Airway Fun Center has a fun but challenging Mini Golf course that you and your family are sure to enjoy. Our 18 hole mini golf course features many unique obstacles on the well-designed holes making for a fun round of golf for the whole family, including the toddlers under 4, who can play for free! Mini Golf is also an eligible activity for birthday party packages.
Get a Thrill on Our Ropes Course and Climbing Wall
Once you have finished with your Go-Kart race and round of Mini Golf, there's still fun to be had outside. We have a ropes course that allows kids to climb in a 30 minute course featuring numerous obstacles, including a 100 foot zip line to complete the course. You can also challenge your climbing abilities on one of our three climbing walls, each with its own unique challenge.
The friendly staff at Airway Fun Center are ready for a summer full of fun and excitement with your family and friends. Stop in for a great time today!