We Have Fun Things to Do Outdoors in Kalamazoo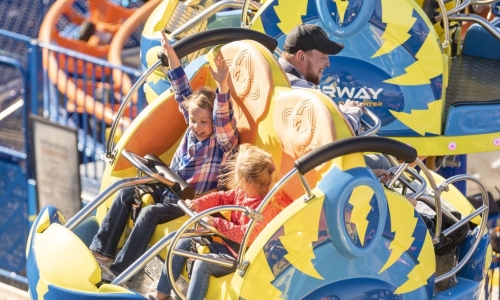 Living in Michigan, we're probably due for at least one more snowfall, but it won't bee too much longer before sunny skies are back. That means another great summer of outdoor fun at Airway Fun Center. Mini Golf, Go-Karts, the Spinning Coaster…these are just a few of the fun activities you and your children can enjoy during a fun outdoor birthday party or just for a fun afternoon. In today's post, we will discuss all the great activities that you and your family can enjoy during the spring and summer months at Airway Fun Center.
Play a Fun Round of Mini Golf
Airway Fun Center boasts one of the best Mini Golf courses in Southwest Michigan. Our fun, challenging 18 hole course is an activity that the entire family can enjoy, including children under 4, who can play for free! Mini Golf is also an activity that can be chosen for your guests as an option for birthday party packages.
Get a Thrill on Our Go-Kart Course
Once the sun is shining and the temps are warmer, you'll see all sorts of riders enjoying our Go-Kart course. With single karts for drivers 54 inches or taller and double karts that allow kids 36 inches or taller to ride with a driver at least 16 years old, this is an activity that almost all guests can participate in. Be sure to call ahead in the event of inclement weather to confirm that the Go-Kart course is open.
Give Our Ropes Course or Climbing Walls a Try
Our ropes course gives kids who are 48 inches or taller a great thrill climbing through obstacles before finishing with the thrill of a 100 foot zip line. This 30 minute climb gives the children an exciting experience while be safely harnessed, so they don't have to worry about falling. For a more thrilling challenge, you can try one of our three climbing walls.
Try Our Latest Attraction – The Spinning Coaster
In the summer of 2022, we added a spinning coaster that gives riders a 2 minute ride at up to 35 miles per hour. There are three cars that spin horizontally, or the hamster wheel for older riders that spins riders upside-down. Try it at night when you can enjoy the ride with bright, flashing lights. Get more information about the coaster guidelines here.
Bring your family to Airway Fun Center for fun things to do in Kalamazoo. Does your child have a birthday approaching? Lean about having a great birthday party at Airway Fun Center!