We Have Plenty of Fun Things for Kids to Do in Kalamazoo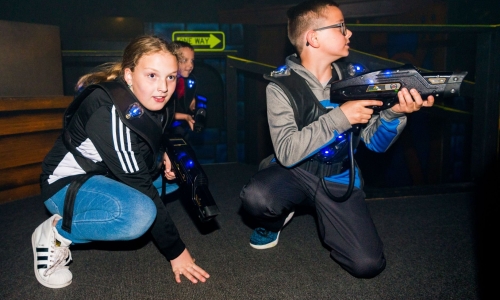 School is back in session, and there's no better way to reward your kids for their hard work than bringing them to Airway Fun Center. We have a great selection of fun things to do in Kalamazoo, with both indoor and outdoor activities that your kids will love. Whether you want to join the kids for a game of mini-golf or bowling, or you want to relax while turning the kids loose in the arcade, we have plenty of fun activities that will make for a great day of fun for the entire family. In today's post, we will look at a some of the fan favorite activities we have to offer at Airway Fun Center.
Exciting Competition with Laser Tag or Our Laser Maze
If you and your kids are sci-fi fans, then Airway Fun Center has an adventure in store for you with our Laser Tag and Laser Maze activities! With Laser Tag, you can team up with friends and family members in an exciting game that will make you feel like you are on a mission to save the galaxy. You can also take on the challenge of completing a mission in our Laser Maze without breaking any of the laser beams blocking your path. Not only are these activities a great thrill, but they are also a sneaky way to get your kids some exercise in the process.
Fun for the Whole Family in Our Bowling Alley
Bowling has long been one of the most popular sports for families, and Airway Fun Center has lanes ready for your enjoyment. You and your friends can compete in a traditional game of bowling, and we also have gutter bumpers and ramps that younger kids can use, so they can participate, as well. If you are looking for a more exciting experience, we have our Spark Lanes with colorful graphics and lights on the lanes, and you can also enjoy food and drinks from our Taproom while you bowl. Interested in one of our bowling leagues? Click here for more information.
Try Your Luck in Our Arcade
There's always excitement in the air in our arcade. With plenty of flashing lights, bells, and sirens, our arcade has a fun atmosphere for kids of all ages. We have a great selection of pinball machines, video games, and even fun challenges like Ski-Ball, Basketball, and various claw machines where you can test your skill and even win fun prizes from our redemption center. And the best part? The days of hauling around a bunch of quarters are over. You can get one of our fun cards and add money to it, giving you the freedom to play the games with a simple swipe without worrying about spilling quarters all over the place.
Whether you want the perfect venue for a kids birthday party in Kalamazoo, or you just want to treat the kids to a day of fun, Airway Fun Center has something for everyone. Stop by and have a great time with us today!