We Have Plenty of Fun Things to Do in Kalamazoo During the Winter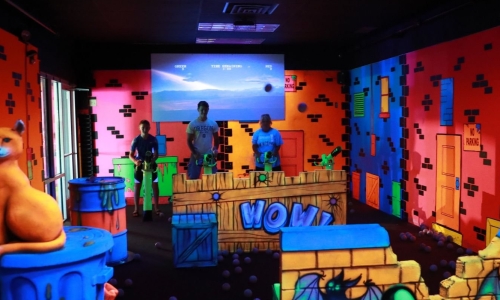 Now that winter is underway, you might be looking for things the kids can do for fun in Kalamazoo. While our outdoor activities are down for the season, we have plenty of fun activities for the kids inside Airway Fun Center. You can play a fun game of bowling with the family, let them compete in a game of Laser Tag or in our Laser Maze, or turn the kids loose in our exciting arcade. Not only will your kids have a great time, but they can have a great lunch of pizza, chicken strips, or burgers, ensuring they don't go hungry. In today's post, we will discuss some of the most popular indoor activities you and your family can enjoy during the winter months at Airway Fun Center.
Have Fun with America's Top Participation Sport
For many years, bowling has been one of the most popular casual sports in which almost anyone can participate. Airway Fun Center has several bowling lanes where you and your kids can have a great time competing. Whether you want to bowl on traditional lanes or one of our colorful, exciting Spark Lanes, you and your kids will get a thrill. We have lane bumpers and ramps for the little ones to use, so they don't become discouraged by rolling gutter balls. You can even schedule a private party in our VIP suite where you and your guests can bowl in style and comfort. Want to take your game to the next level? Learn more about joining one of our Bowling Leagues.
Have Sci-Fi Fun with Laser Tag or Our Laser Maze
Our Laser Tag and Laser Maze facility are the best in the Kalamazoo area. For Laser Tag, we have both team and free-for-all game options in which you and your friends can get the thrill of competition in a Sci-Fi setting. If you are looking for a different challenge, you can try one of our Laser Maze missions, in which you attempt to make your way through a laser illuminated room without breaking the beams. You can also try our Time Freak control room where you can challenge yourself by trying to solve lighted button puzzle patterns in the time allotted.
Have Fun in Our Dazzling Arcade
There's just something exciting about the lights and sounds of an arcade with all the video games, pinball machines, and other tests of skill. Airway Fun Center has a fun arcade where your kids can enjoy all these games without lugging around a bunch of quarters or tokens. Just load some money onto one of our Fun Cards, and your kids will be able to use the card to activate any of the pinball machines or games they want to play. They can even compete in activities like shooting baskets or playing Ski-Ball, allowing them to earn tickets that they can redeem for treats and prizes.
Give your kids a fun afternoon this winter by bringing them to Airway Fun Center where there are many fun things to do in Kalamazoo. Contact us for information about how to hold your next birthday party here at Airway Fun Center.