When it Comes to Kalamazoo Bowling, Airway Fun Center is the Place to Be!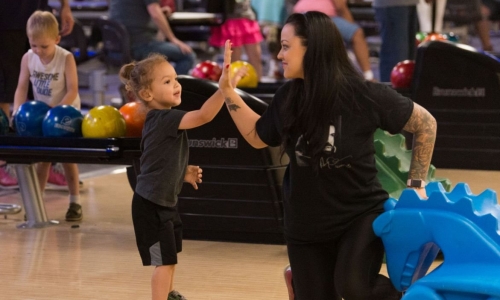 For over 50 years, Airway Fun Center has been the destination of choice for Kalamazoo bowling. With 39 lanes, we're the largest alley in the area and have earned a reputation for providing friends, coworkers, and families with a fun, exciting place to spend their day. Purchased by Don Labrecque in 1997, Airway has evolved into a "fun center," which is basically an easier way to say, "a place with laser tag, mini golf, escape rooms, go karts, virtual reality, an arcade, and all sorts of other stuff all under one roof." As a fun center, Airway has offered people in the Kalamazoo area a one-stop destination for all of the latest, greatest activities.
But, it all started with bowling! As one of America's favorite pastimes, bowling remains one of the most popular activities that Airway has to offer. Whether you're looking for the psychedelic fun of cosmic bowling or the more laid back, relaxing atmosphere offered by our private lanes, you can be confident that we can tailor an experience to you and – more importantly – to your group. Best of all, we've got everything you need for an exciting evening all under one roof! With amazing, handcrafted food offered at our Taproom and a modern arcade to keep the kids entertained, your group will always find something to do – and love! – at Airway.
Airway Fun Center is extremely proud to offer the best options for Kalamazoo bowling. With the largest number of lanes in the area, a fully stocked bar, delicious food options, and a range of other entertaining activities, you can always be confident that a night at Airway is a night of fun. If you've been searching for fun things to do in Kalamazoo, we encourage you to drop in and pay us a visit!