Fun Things to Do for Group Activities in Kalamazoo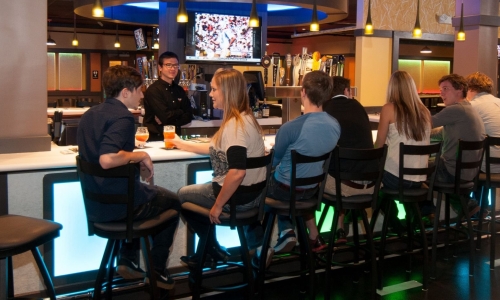 If you are looking for a great venue for your group outing or party, Airway Fun Center has a great selection of both competitive and team-building activities. Even with the weather outside being cold and windy, we still have plenty of fun stuff for you and your group to do inside our facility in Portage. We even have a full menu of food and drinks from our Taproom, so nobody in your group will go hungry or thirsty. In today's post, we will discuss the many activities you and your group can enjoy during your visit at Airway Fun Center.
Challenge Yourselves with One of Our Escape Rooms
One great way to challenge yourselves while also building teamwork and camaraderie is by tackling one of the escape rooms at Airway Fun Center. We have several different escape rooms available, each with their own compelling story and degree of difficulty. We even have a family-friendly escape room featuring Scooby Doo and the gang from the Mystery Machine. If you would like to challenge your group with one of these escape rooms, be sure to call ahead and reserve the room you want to try. We know that once you feel the rush of solving one of these escape rooms, you will want to come back and attempt the others!
Compete at Our Bowling Alley
Bowling has been one of the most popular participation sports in the United States for decades. Easy to learn, Bowling is a unique activity in that the entire family, no matter how young or old, can participate at the same time. Airway Fun Center has a number of bowling lanes available where you and your group can compete and have a great time. We have bumpers and ramps for the little ones to use, so even they can get in on the fun. Try our Cosmic Bowling on Friday or Saturday nights for an exciting experience you cannot find anywhere else.
Have Fun in Our Bright, Exciting Arcade
Remember the old days of going to the arcade with all the lights, sirens, bells, and excitement? Airway Fun Center can provide you with that exciting experience, as well. We have a great arcade featuring pinball machines, video games, and other tests of skill, like Ski Ball or Basketball. Not only can you earn redeemable tickets to get great prizes, but you don't have to lug around a bunch of tokens or quarters to play. Just get one of our Fun Cards and load it with money, and all you have to do is swipe and play!
Airway Fun Center is the perfect place for your group to come together and have a great time. Contact us to schedule a fun group outing or party that everyone is sure to enjoy.